Lady Gaga has taken the world by storm since she first stepped onto the Hollywood scene over 10 years ago. She's built a reputation for having an Avant Garde style, from wearing a dress draped with meat to a gown completely wrapped in hair, her outfits have blown us away.
Alongside her outrageous outfits, Lady Gaga has made her mark in the jewellery world. As we love looking at celebrity engagement rings, we can't help but remember her beautiful collection. From her romantic heart shaped diamond engagement ring, to her show stopping pink sapphire and diamond halo engagement ring, she's a star that isn't afraid to sparkle.
Taking a trip back to 2015, when our girl Gaga received her first proposal, we take a look back at her stunning heart shaped engagement ring that's got us falling head over heels, over six years later.
The "Million Reasons" singer met Tyler Kinney, Chicago Fire star, in July 2011 on the set of her "Yoü & I" music video. After dating for more than three years, Gaga and Kinney got engaged. Tyler asked Gaga to marry him on Valentine's Day 2015, and proposed with a particularly fitting ring; a heart shaped 6-carat diamond.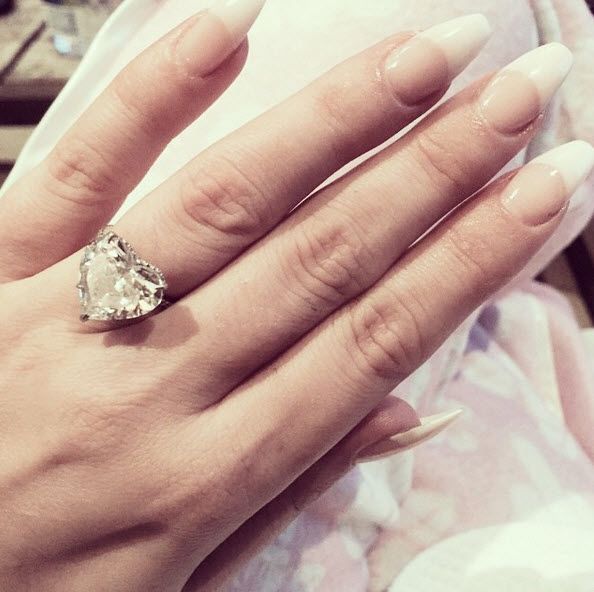 Although Gaga is known for her extraverted stage personality, surprisingly, the couple celebrated their engagement with a simple, low key meal at the star's favourite restaurant in New York. She's been flaunting her ring ever since then, and has revealed that the base of the band, all of which is encrusted with white diamonds, has the letters 'T' and 'S' with a heart in between (also in diamonds), for 'Tylor' and 'Stefani', Lady Gaga's real first name – a modification that the soon to be groom ordered himself, and which she has said is her favourite part of the ring.
Valued at a whopping £500,000 and designed by celebrity jeweller Lorraine Schwartz who also designed Kim Kardashian's engagement ring, creating a perfect heart shaped diamond is not an easy task, as the shoulders of the stone will need to be completely symmetrical. Our diamond experts took a close look at the ring, revealing that Gaga's diamond has a simple setting and underneath all those pave diamonds, the band is platinum.