Queen Maxima has been a royal since 2002, when she married King Willem-Alexander, who became King of the Netherlands after his mother, Beatrix, abdicated in April 2013 after 33 years as reigning monarch. Despite being born in Argentina, she won the hearts of the nation with her symbolic engagement ring.
How did Queen Maxima and King Willem-Alexander meet?
Back in 1999, Maxima Zorreguieta met a man who introduced himself as Alexander at a party in Sevill. Little did she know not only that he was the man who would become her husband, but also that he would one day become King of the Netherlands.
The couple announced their engagement during a live televised broadcast in The Hauge on 30th March 2001, where Maxima addressed the nation in Dutch – only a basic conversational speaker at the time, by the time the couple wed in a royal ceremony on 2nd February 2002, she is said to have been fluent.
Controversy
Controversy surrounded the couple's engagement announcement due to the involvement of Máxima's father Jorge Zorreguieta as a cabinet minister during the most recent Argentinian dictatorship. At the request of the States General, there was an investigation into Jorge that reached the conclusion that he wasn't directly involved. This led to the engagement being formally approved by the States General – a necessary step for Willem-Alexander to remain in line to the throne.
What do we know about the engagement ring?
When designing the ring, Willem-Alexander turned to Steltman, a Dutch jewellery firm. Paying homage to the Netherlands, the centre stone of the platinum ring is an oval-cut orange diamond, flanked by a pair of emerald-cut diamonds and two rows of pave-set diamonds that hug the central portion of the ring.
And, while an orange diamond may seem unusual, it actually references the House of Orange-Nassau, which is the name of the Dutch royal dynasty.
The title bestowed on the heir to the Dutch throne is Prince (or Princess) of Orange, and Willem-Alexander was Prince of Orange at the time of their engagement and wedding.
The fascinating diamond's colour represents courage, energy, and enthusiasm.
Similarities to Princess Eugenie's engagement ring
Queen Maxima's and Princess Eugenie's rings both offer a splash of colour. Chosen by Jack Brooksbank in 2018, Eugenie's striking ring contains a padparadscha sapphire that's surrounded by diamonds, giving a beautiful pinkish-orange glow – not dissimilar to the orange tones of Queen Maxima's ring.
READ MORE: Why Princess Eugenie has the rarest engagement ring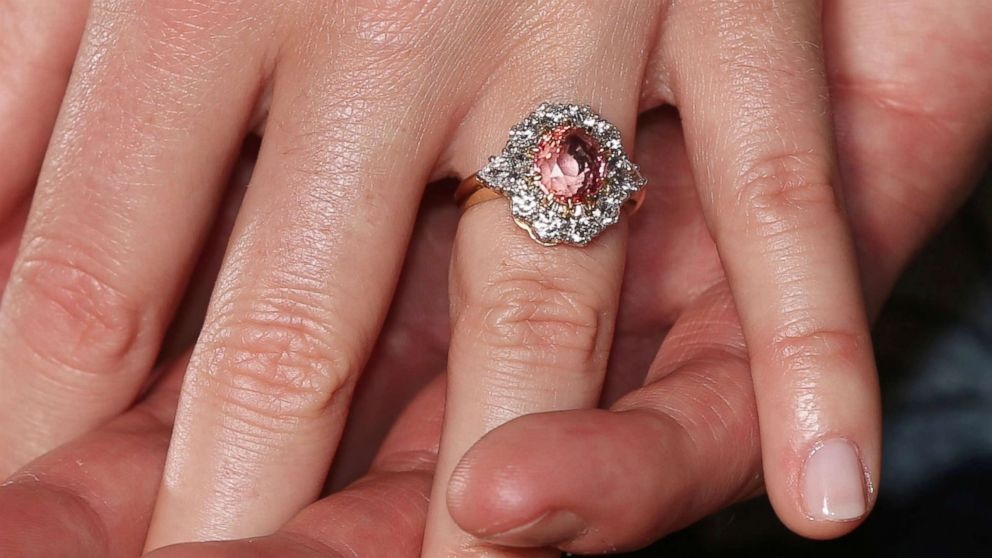 Why Queen Maxima often wears her engagement ring on her right hand
Both engagement and wedding rings are traditionally worn on the fourth finger of your left hand, but unlike other royal brides, it's not unusual for Queen Maxima to wear her engagement ring on her right hand.
Queen Maxima's decision to switch between two hands could be based on religious practice – the royal was raised in the Catholic Church, which used to see people favour their right hand for their engagement and wedding rings due to the belief that it was associated with strength. What makes Maxima's decision sentimental is that King Willem-Alexander is Protestant, so she could be honouring both of their traditions.
Queen Maxima's additional rings
Queen Maxima frequently pairs her engagement ring with other rings – three of which have particularly sentimental value. Easily mistaken for engagement rings, all three were gifted to her by her husband to celebrate the births of each of their children. Perhaps the most interesting is the diamond ring that Willem-Alexander bestowed to celebrate the arrival of the couple's third daughter, Princess Ariane, which is very similar in design to the engagement ring worn by the Duchess of Cornwall.
READ MORE: Camilla Parker-Bowles' engagement ring has a special connection to the Queen Mother
To mark the birth of their first daughter, Princess Catharina-Amalia, Willem-Alexander gifted Maxima with a ruby and diamond ring that she wears on her right hand. Our diamond expert, Zack Stone said: "The ruby appears to be a Burma Pidgeon blood colour, which is considered most desirable and of course, most expensive. The stone looks to be in the range of 4-4.5ct. Taking into account its rarity, at the utmost quality, this ring could retail for £345,000 ($450,000)".
Sharing colour similarity with her engagement ring, the ring gifted to Maxima after the birth of the couples second daughter, Princess Alexia is set with a large, faceted orange gemstone. After a closer look, Zack Stone said: "Queen Maxima's orange gemstone is likely to be an orange sapphire – which once again sees her heart-warmingly pay homage to the Netherlands. At 10 carats, I'd estimate it to retail at £92,000 ($120,000)".
To celebrate the birth of their youngest daughter, Princess Ariana, Willem-Alexander gifted Maxima with an emerald-cut diamond ring' – though it does share a likeness with the Duchess of Wales', Camilla's diamond is flanked on either side by three diamond baguettes, whereas Queen Maxima's is flanked by two smaller stones. Zack Stone said: "Princess Ariana's showstopping and timeless birth ring looks to be a 7-8 carat emerald cut diamond. I'd estimate its value to be approximately £420,000 ($540,000)".
Queen Maxima isn't the only royal who's received jewels upon the birth of their children, either. Kate Middleton received a pendant with George's full name on it, a 0.23 carat diamond and 18ct white gold white gold ring from Annoushka, which cost around £1,200 at the time, and a diamond eternity ring, which we estimate is worth £1,500.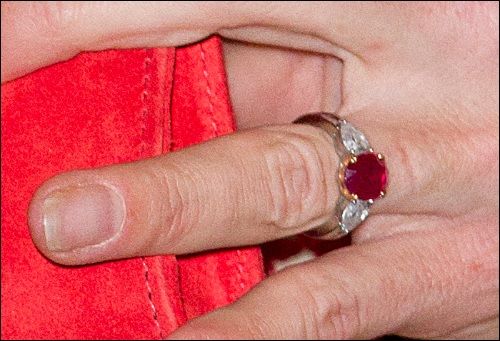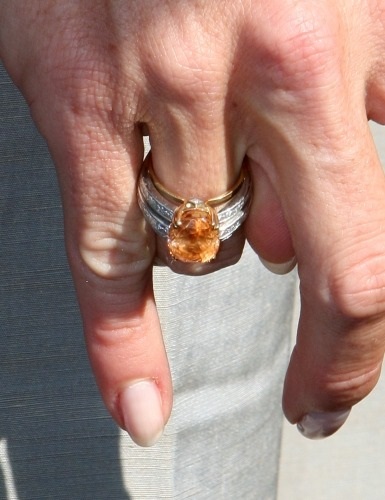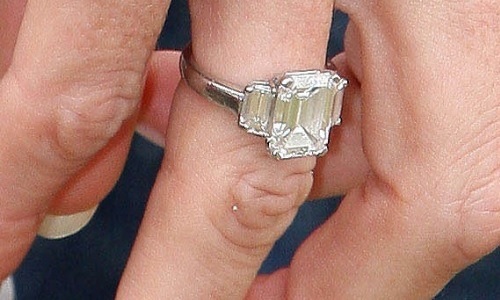 READ MORE: The sweet meaning behind Kate Middleton's push presents from Prince William
If you're looking for a unique engagement ring of your own, chat to one of our team for bespoke engagement rings.
We also offer diamond earrings, eternity rings, and wedding rings for women and men.