Love is in the air and you've decided to propose to your significant other, but where do you start when it comes to choosing an engagement ring? First things first, you don't want to rush things – finding the perfect engagement ring takes time and research.
To help you out, jewellery experts at Steven Stone have put together a 10-step guide that covers everything that you'll need to know to ensure that you pick the right ring – from setting a budget to choosing a stone.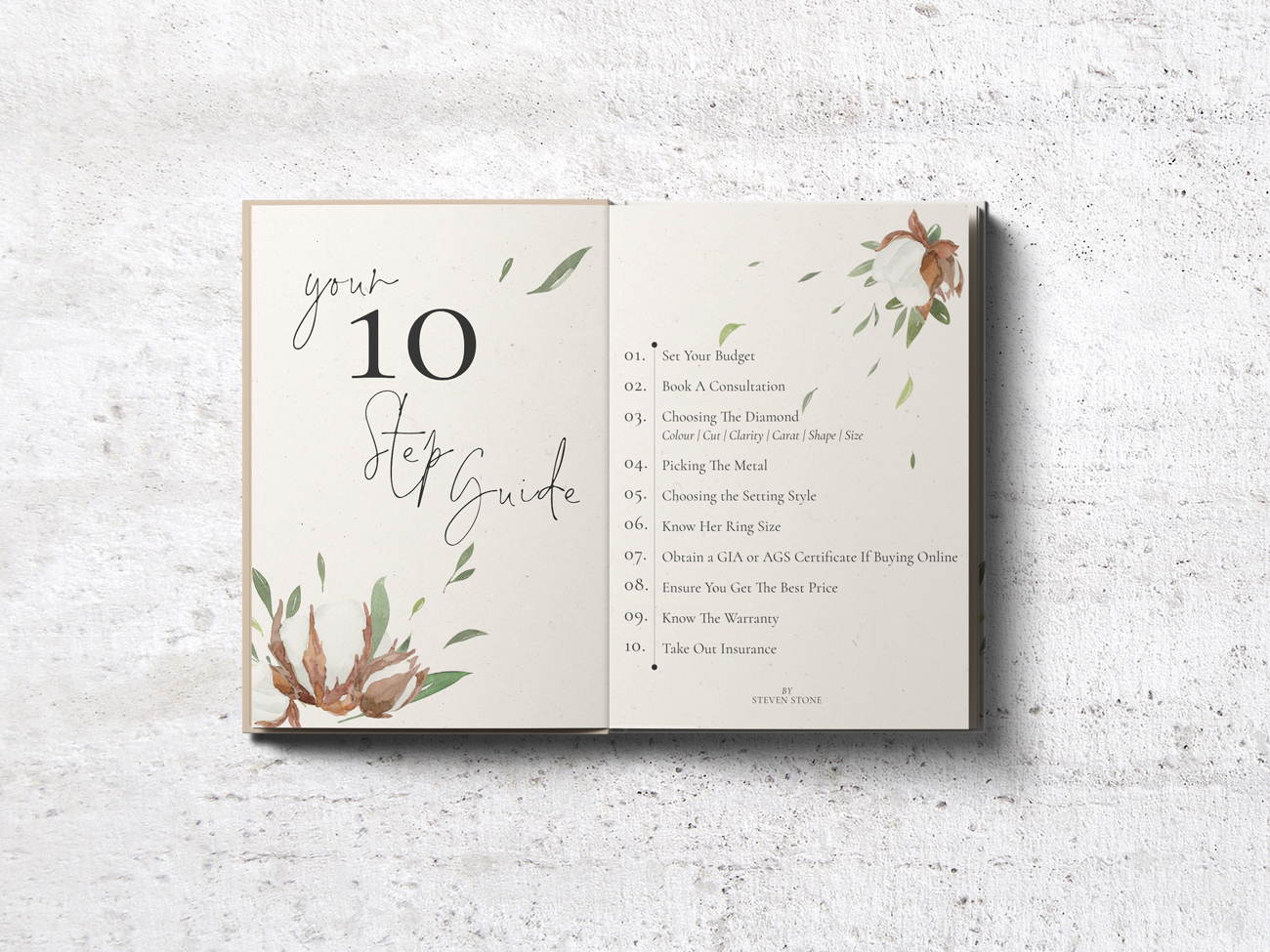 1. Set Your Budget
The first decision that you'll have to make is choosing your budget. Contrary to popular belief, it's not necessary to spend three month's salary on a ring – interestingly, this rule was actually introduced as a marketing ploy after the Second World War to encourage diamond sales!
The average amount spent on an engagement ring in 2022 is £4,000 to £5,000, but don't feel obliged to follow the crowd – what's most important is that you spend what you're comfortable with and get the best possible value for your money!
If you're on a budget but are keen to splash out, financing options might appeal to you. Here at Steven Stone, we offer 0% finance and flexible deposits – meaning that you can pay the cost of the ring over a fixed term.
2. Book A Consultation
It goes without saying that choosing the perfect engagement ring for your other half is personal, but it can also be a daunting task and that's why a second opinion is beneficial. It's definitely worth booking an appointment with a professional jeweller who can show you a range of different styles.
During the appointment, an expert will guide you through the design and components of your perfect ring – including the importance of the 4Cs: cut, clarity, colour and carat. They will discuss your different options, for example, do you want a bespoke creation or a ready-made piece? Do you have an existing ring you'd like to remodel? There are so many choices when it comes to choosing an engagement ring, and many people aren't aware of how creative they can be. This is one of the most exciting parts (aside from the proposal, of course!)
3. Choosing The Diamond
The 4Cs – colour, cut, clarity and carat – are the essential components of a diamond that you should carefully consider before buying. The quality and beauty of each diamond can differ dramatically, so having a solid understanding of the 4Cs will help you make an educated decision.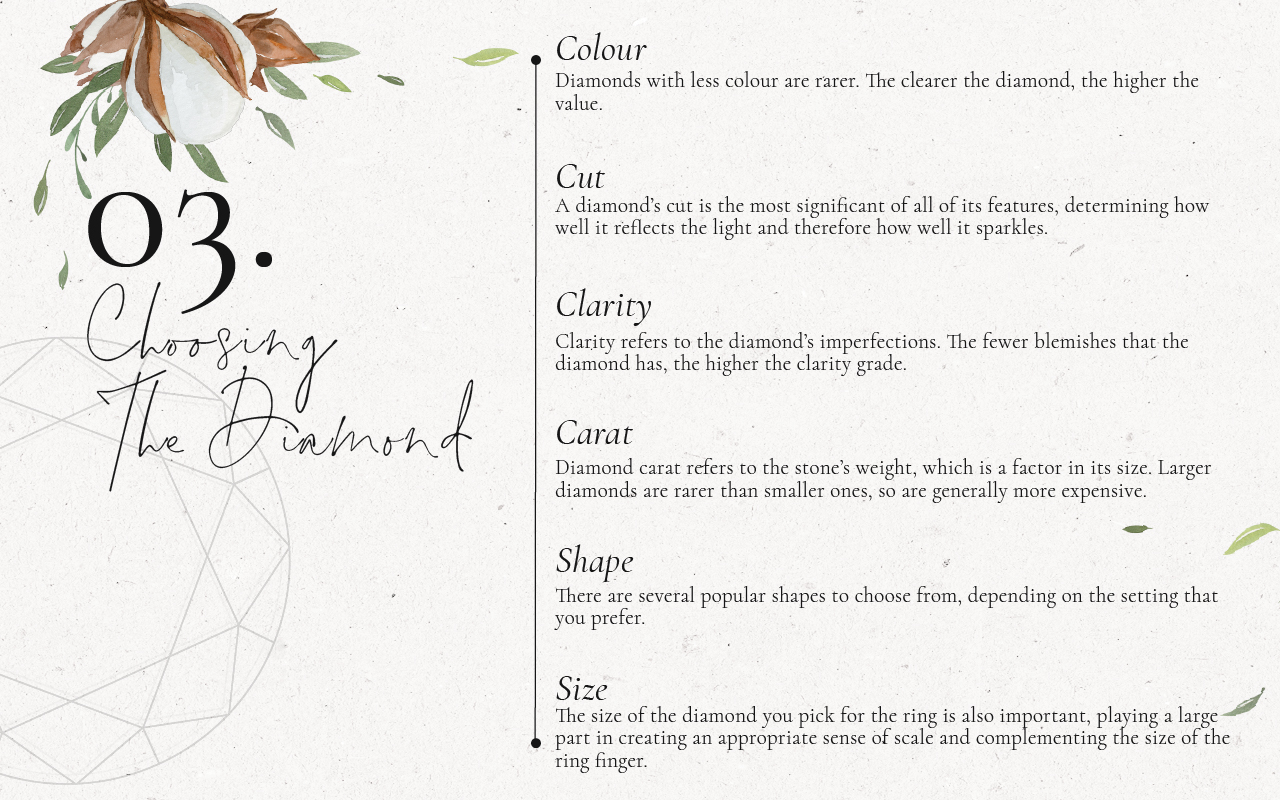 4. Picking The Metal
With so many different materials available, it can feel overwhelming picking the right metal for your partner's engagement ring – particularly because it plays a key role in the ring's longevity, as well as its overall look.
It's likely that the ring will be worn everyday, so it's important to choose something durable as well as beautiful. Taking this into account, you should consider what will compliment your chosen centre stone, as well as your partner's lifestyle – for example, those that work with their hands will benefit from a metal that doesn't tarnish and is less pliable than others.
It's also important to be mindful of the cost as the purity of a metal tends to influence its price tag – if you're on a budget, you'll need to take the price of certain metals into consideration. For example, platinum is a pure white metal, thus is more expensive due to its rarity.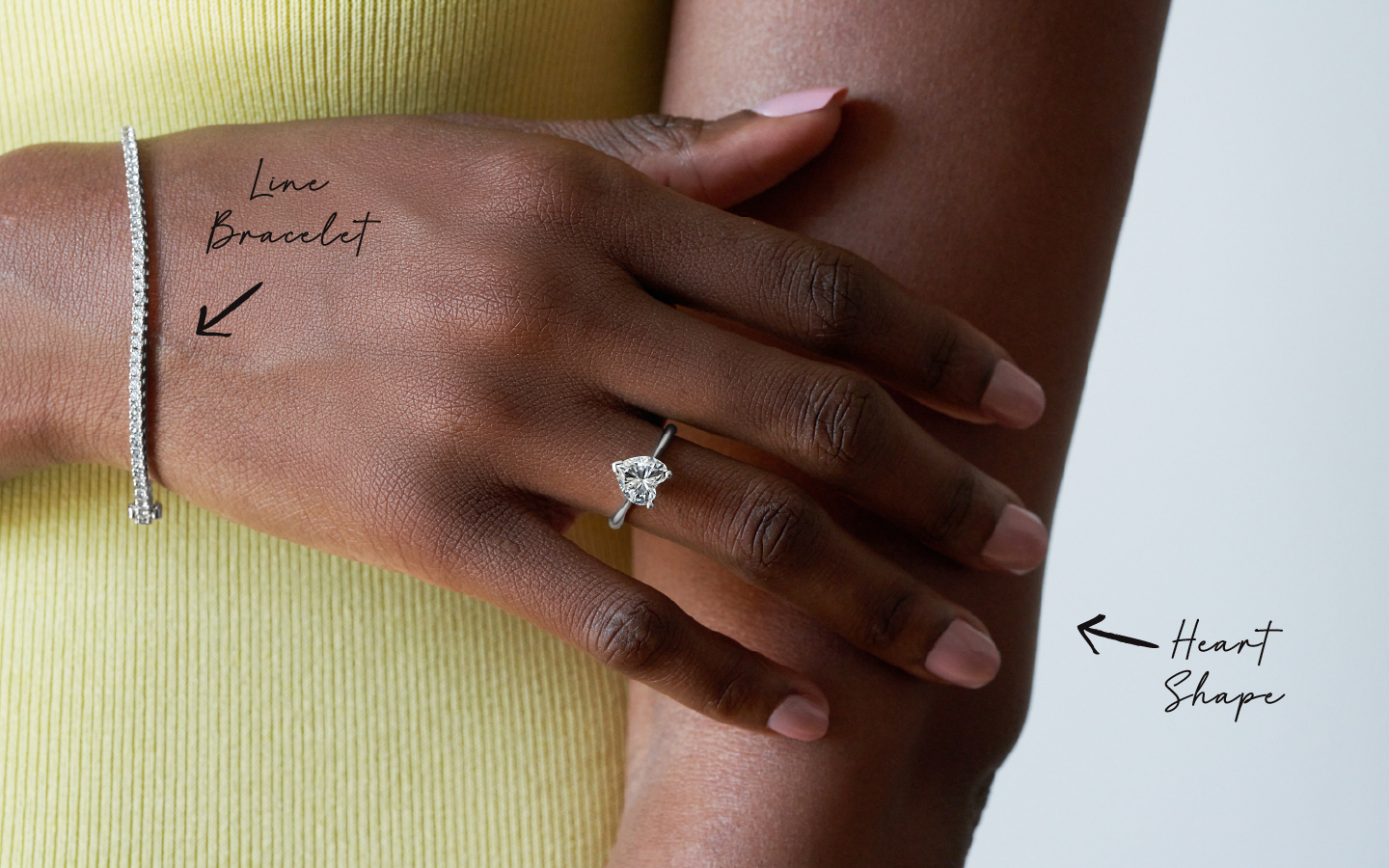 5. Choosing the Setting Style
The setting style of the ring is perhaps the most important design choice, as each setting serves a specific purpose which contributes to the overall durability and look of the ring. Celebrities appear to be opting for more traditional styles at present, with the solitaire setting topping the list as most popular in last years celebrity engagements.
A solitaire ring features one diamond or gemstone set in the middle of the ring – offering a refined and elegant look that makes the centre stone stand out, the setting was made popular in 1886 by American jewellers and is still a bestseller. Kourtney Kardashian stunned us all with her 10ct oval shaped solitaire diamond ring worth £750,000 in 2021.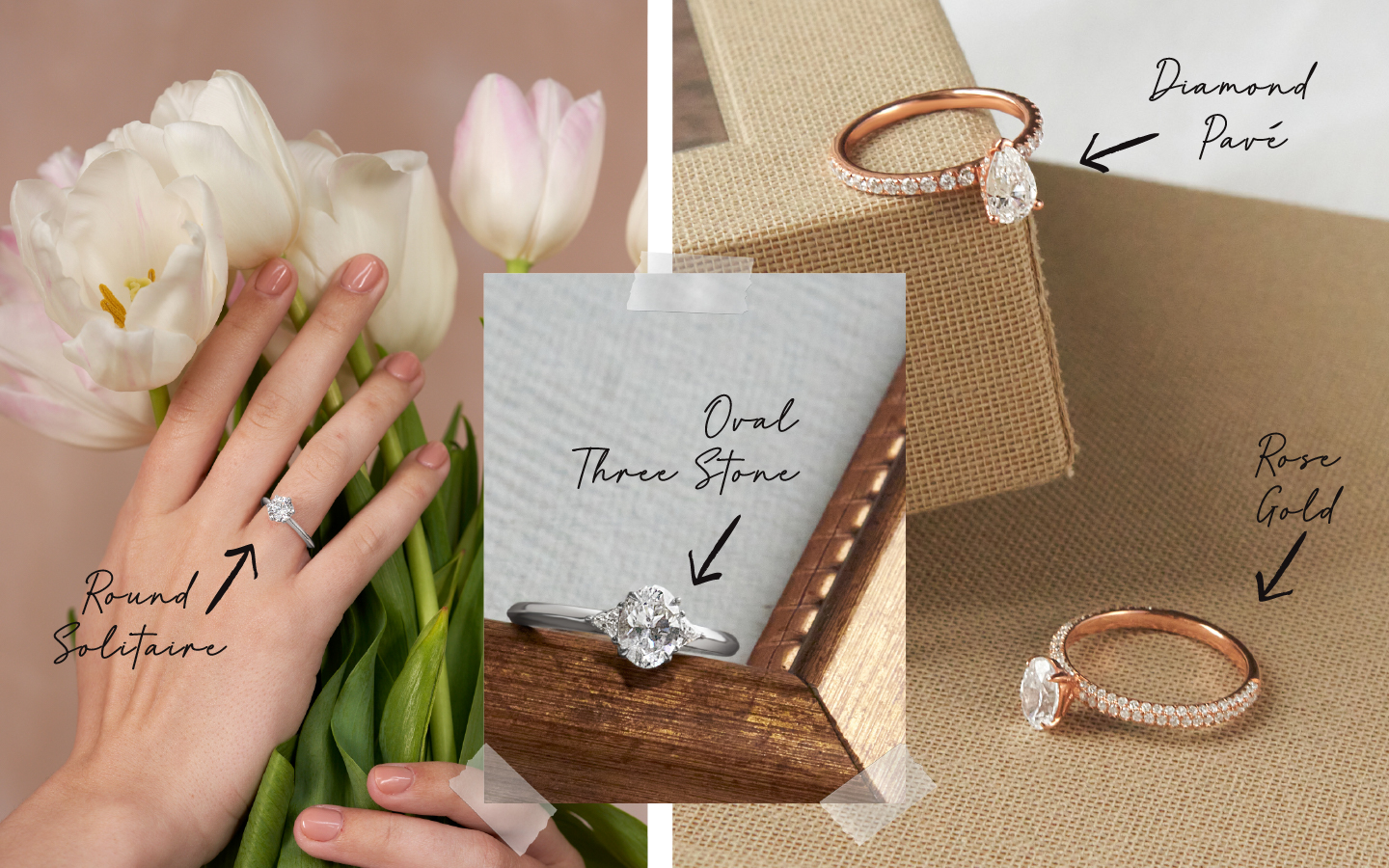 Featuring one large diamond with smaller diamonds inset into the metal on either side, shoulder set rings are perfect for those who enjoy a little sparkle and glamour. Earlier this year, Made In Chelsea star Jamie Laing proposed to his on-screen girlfriend Sophie Haboo with a shoulder set ring – with a retail value of £40,000, the ring boasts a high quality two carat oval diamond with extra diamonds on the shoulders.
The three stone setting features diamonds set in a linear formation and was recently seen on Meghan Markle's engagement ring, which features a 3 to 4 carat centre stone that's supported by two round diamonds from Princess Diana's jewellery collection.
The halo setting features one large stone bordered by smaller stones and is particular popular with Royal Brides and Hollywood elites – one being Zawe Ashton, who recently got engaged to Marvel actor Tom Hiddleston. Set on a gold band, Ashton's beautiful halo ring features a large oval diamond surrounded by a halo of diamonds.
6. Know Her Ring Size
If you don't know your partners ring size, then that's not a problem as there are multiple sleuth tactics that you can use to ensure that you don't spoil the surprise.
If your partner wears a lot of jewellery then the chances are that they have a ring that you can base their sizing on – you can do this by using a ring sizer, ruler or even an app! Of course, a speedier and more accurate option would be to sneak the ring to one of our showrooms for sizing.
If you're not feeling as stealthy as 007, there's no need to worry as if you choose the 'Not Sure' size option when choosing your ring on the Steven Stone website, you'll qualify for free resizing.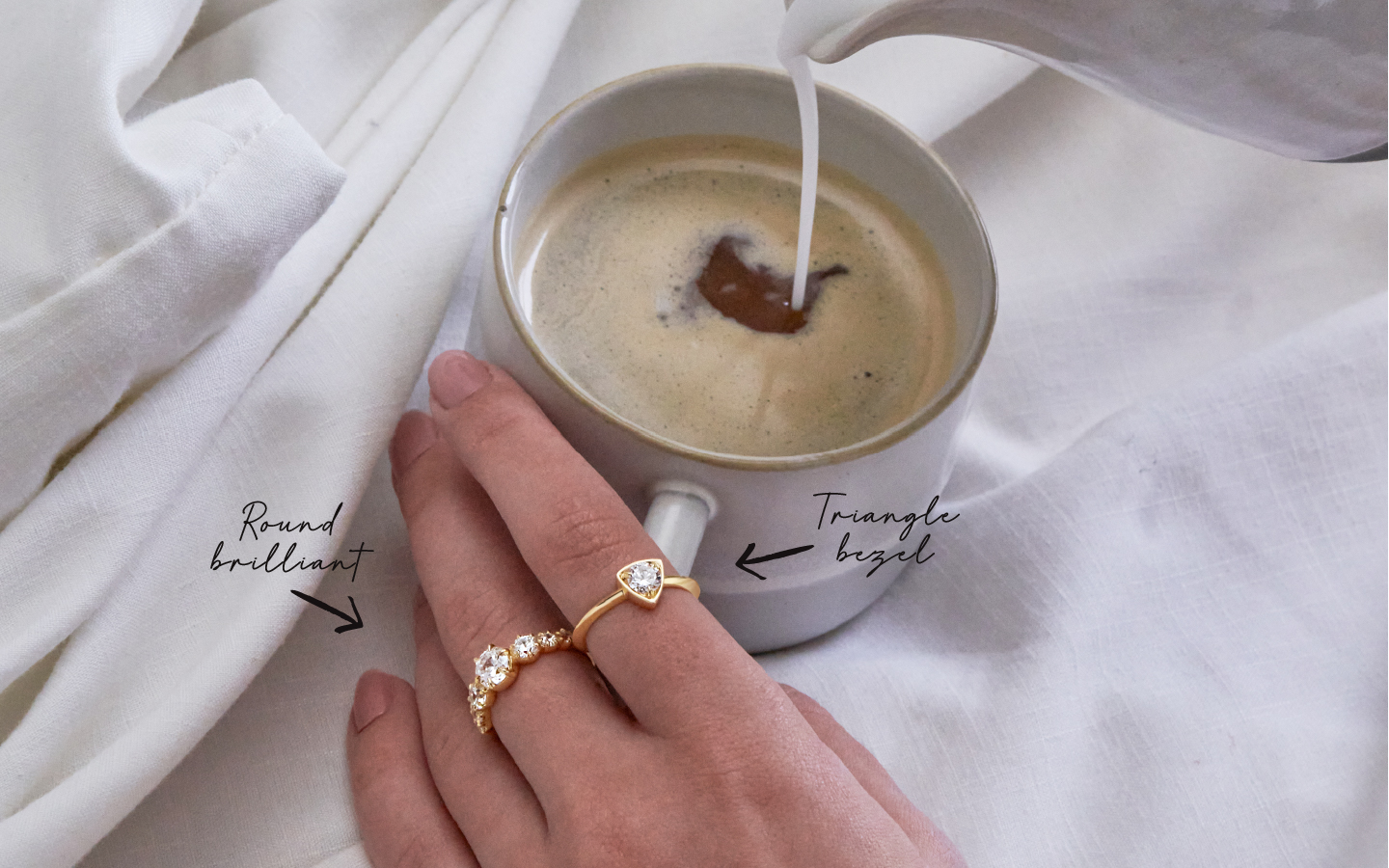 7. Obtain a GIA or AGS Certificate If Buying Online
Diamonds are one of the most valuable things in the world – therefore, it's not uncommon to come across scammers trying to sell fakes. This is why a diamond certificate is important when buying loose diamonds, diamond jewellery and engagement rings as it validates the quality of the stone and ensures its authenticity.
Though there are five in total, GIA and AGS are the world-renowned and most respected diamond grading laboratories – GIA invented the current diamond system that we use today, whilst AGS are known for grading higher quality diamond with ideal cuts and proportions.
As well as being useful for analysing the 4Cs that decide the quality of a diamond, a particularly important benefit of a GIA certification is that it will help you to understand whether the diamond is natural or synthetic! As there are no differences in their appearance and properties – but a huge one in their value – GIA certification will help you to know whether the diamond is natural or lab created and ensure that you're not paying a huge price tag for a synthetic diamond.
8. Ensure You Get The Best Price
The average cost of a celebrity engagement ring in 2021 was £300,731 and whilst most of us wish that was our budget, it's sadly a tad over the average, so price is always an important factor. After all, getting engaged is the first step – you have a wedding to plan next!
Here at Steven Stone, we're confident that we'll always give you the best value for money, but if you do find a comparable piece of jewellery cheaper from a high street competitor then let us know and we'll happily match the price.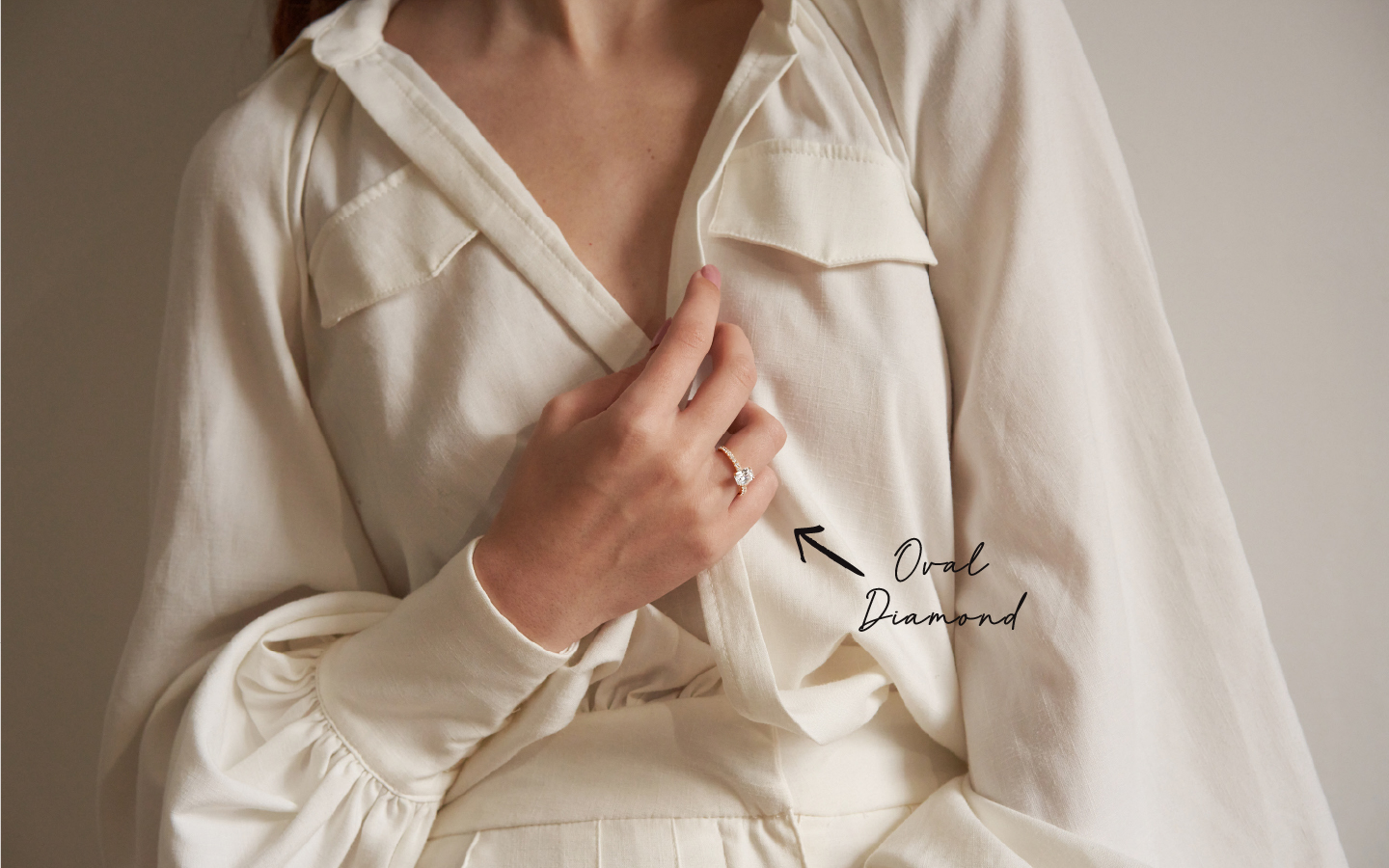 9. Know The Warranty
Most jewellery comes with a free guarantee that covers manufacturing defects – this shows that the jeweller has a high level of confidence in both their craftmanship and product quality. Though to keep your warranty current, you typically have to comply with your jewellers rules, which are usually that you have the piece inspected at regular intervals. Be sure to read your warranty thoroughly!
Ensure to ask your jeweller about the warranty, as it will safeguard you from the potential heartbreak and financial hardship of a damaged ring. You're ideally looking for a lifetime manufacture warranty that protects your jewellery against defects in design, manufacturing and workmanship – if damage occurs to the engagement ring due to a fault, you can get it fixed free of charge.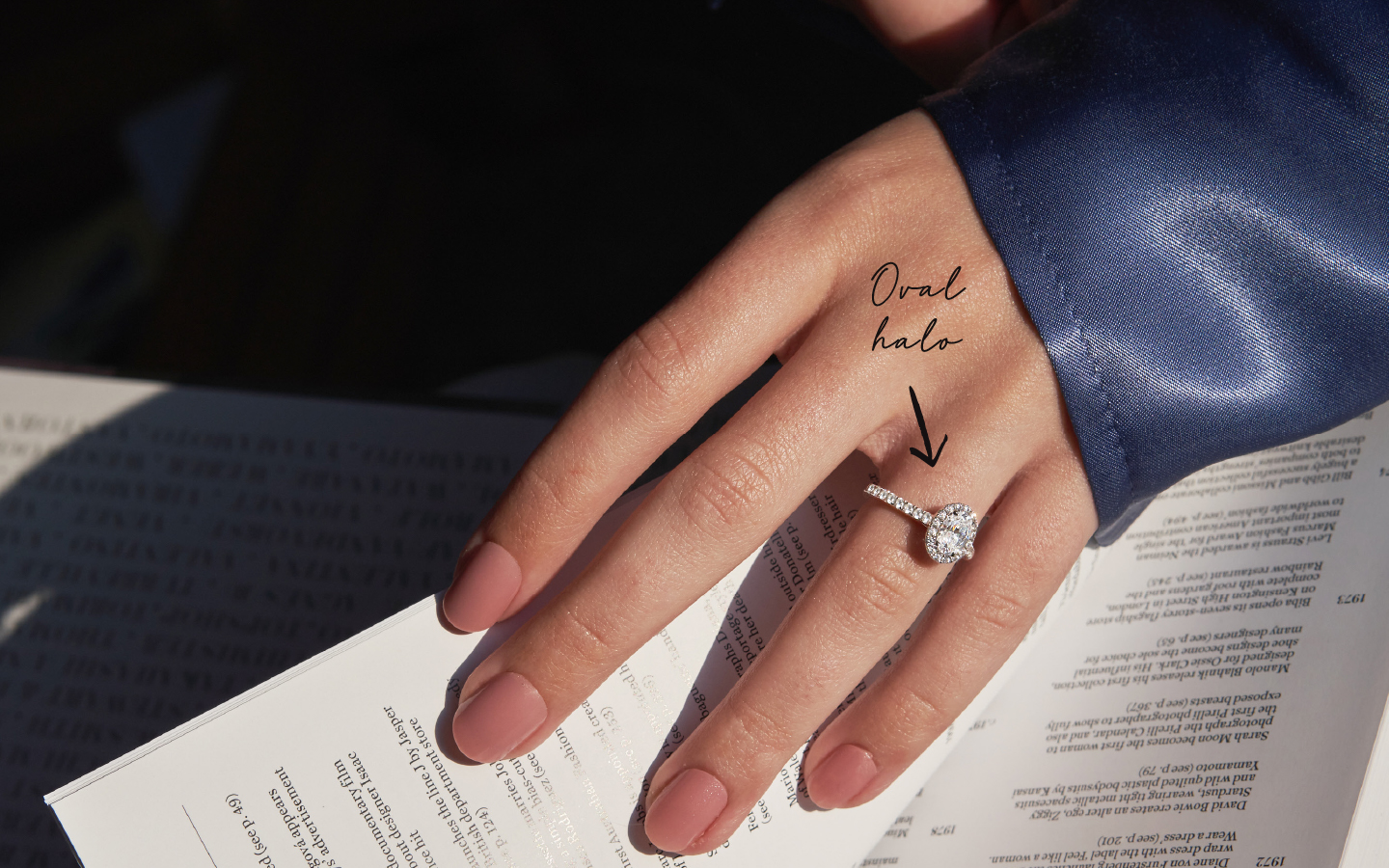 10. Take Out Insurance
Picture this – you're enjoying yourself on holiday and your partner misplaces their engagement ring, or perhaps damages it. Maybe they'd left it at home and you were unfortunate enough to have a break in. We know that we're looking at worst case scenarios, but with great rings come great responsibilities!
Whilst you can't replace an engagement rings sentimental value, by taking out insurance, you can protect yourself from financial repercussions in the event of physical loss, theft or damage. Some of the most common ring hazards are as everyday as you can get – for example, catching your ring on an item of clothing and yanking your hand away quickly, resulting in a misshaped band or even loosened prongs!
Insuring an engagement ring is actually more affordable than you think – dependent on where you live, insuring jewellery costs 1-2% of its value and can be as easy as adding it to your home insurance policy, though specialist engagement ring insurance and jewellery insurance policies do exist.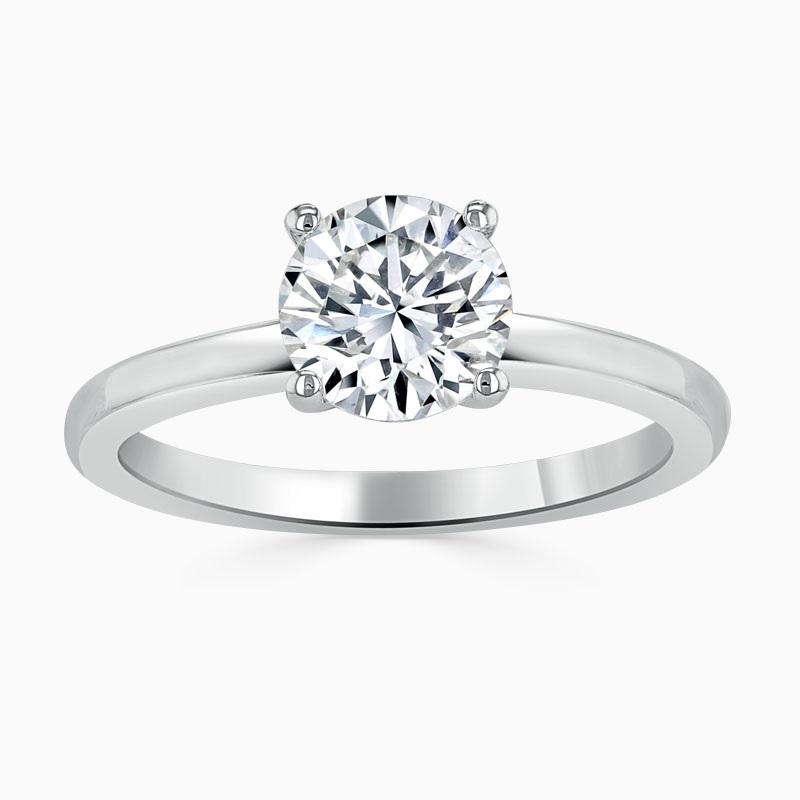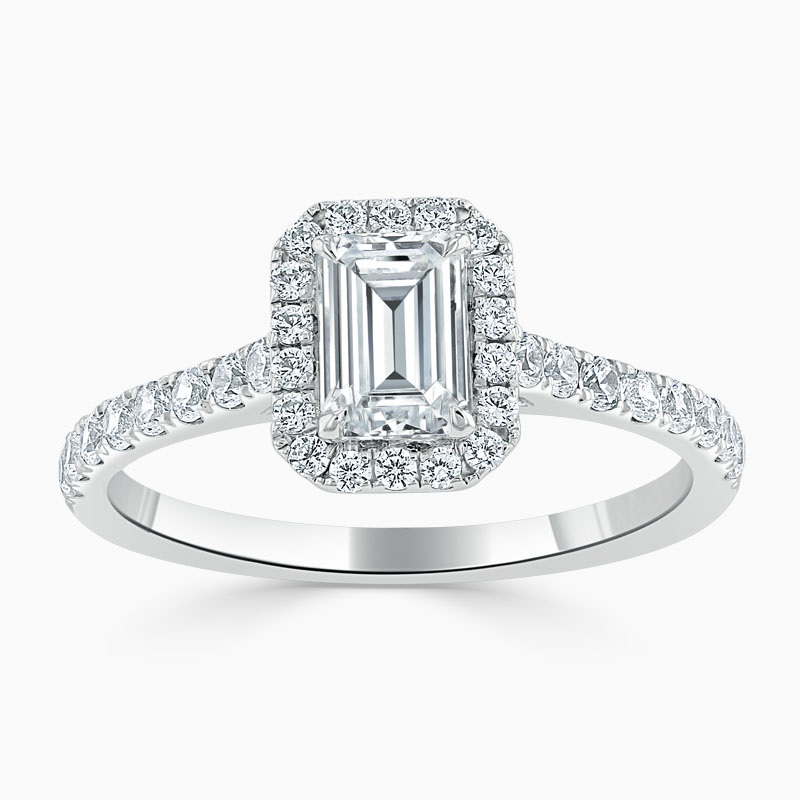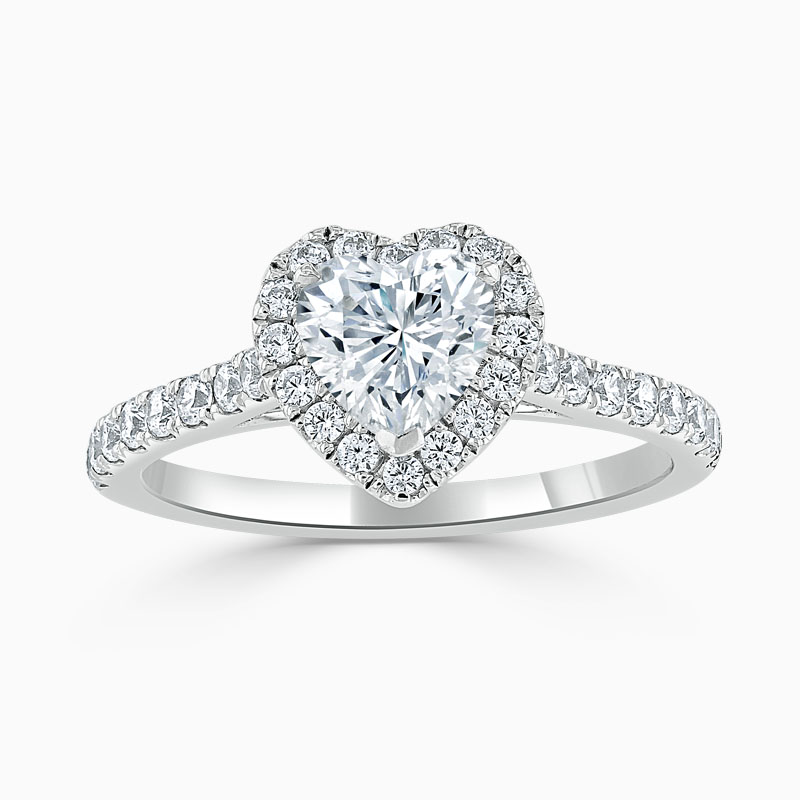 If you're still unsure, book a consultation at one of our showrooms and let us help you choose the perfect ring. If you're looking for a unique engagement ring, chat to one of our team for bespoke engagement rings. We also offer diamond earrings, eternity rings, and wedding rings for women and men.