From adorning powerful civilizations to accentuating modern fashion trends – jewellery is an ever-evolving art form. Often an investment, for many people, their precious gems are of great sentimental value.
Thus, it's important that you've done your research when it comes to making that all important purchase and taking care of your collection properly. No need to worry though as we're here to help!
To boost your knowledge, we prepared ten burning questions about jewellery and engagement rings for Steven Stone's Managing Director, Zack Stone.
What is the most popular diamond shape and why?
Round brilliant is the most popular shape. It's the most classic option and it's timeless.
Which diamond shape looks the largest?
Probably marquise, followed by pear shape, and then oval. These stones are slightly flatter, therefore the spread is a little bigger than in the other shapes.
What are the most important things to consider when buying a diamond?
The most important thing to consider would probably be cut grade or the cut of the stone and the stones colour. These are two things that are really obvious when you look at the stone – is it beautiful, does it sparkle and can you see any colour to the stone?
If you had to choose between diamond colour and clarity, which would you choose?
I'd choose colour. Colour is something that you can see easily within the stone, whereas clarity is not something that you're generally going to see.
Which metal option is better – white gold or platinum?
For an engagement ring, we'd recommend platinum, so that it doesn't have to be replated and doesn't change colour like white gold would.
For other things such as earrings, bracelets and necklaces, we generally recommend white gold. It doesn't have as much wear and tear, so there's no need for replating that often, and it's lighter – it's about 30% lighter than platinum.
How many times can a ring be resized?
There's no particular number or limit for the number of times that a ring can be resized. If a good goldsmith is resizing the ring, it can be many many times – 10, 15 times. It wouldn't matter too much generally and it's never really been an issue whenever we've come to resizing a ring.
What is the average carat weight for an engagement ring?
The average weight's probably around 0.80ct for a natural engagement ring and around 1.50ct for a lab grown engagement ring.
Should I buy a lab grown or natural diamond?
I would say it's a very difficult questions. I don't think there is a right answer there – it's whatever is the right option for yourself and what you want to get out of the diamond that you're purchasing. Both of them have there pro's and con's.
Why does my diamond become dull so quickly?
A diamond doesn't become dull itself, it's most likely dull because it's dirty. Things like hand moisturisers, perfume, hair spray, food – these are the things that sort of get attached to diamonds. It just needs a clean.
How do I choose an engagement ring for my partner?
An engagement ring design is down to personal taste. I would first try and find out, subtly, what your partner might like – you could throw some hints or potentially ask family or friends.
If you come to see us at Steven Stone, we will be able to help you find the right right for you or your partner.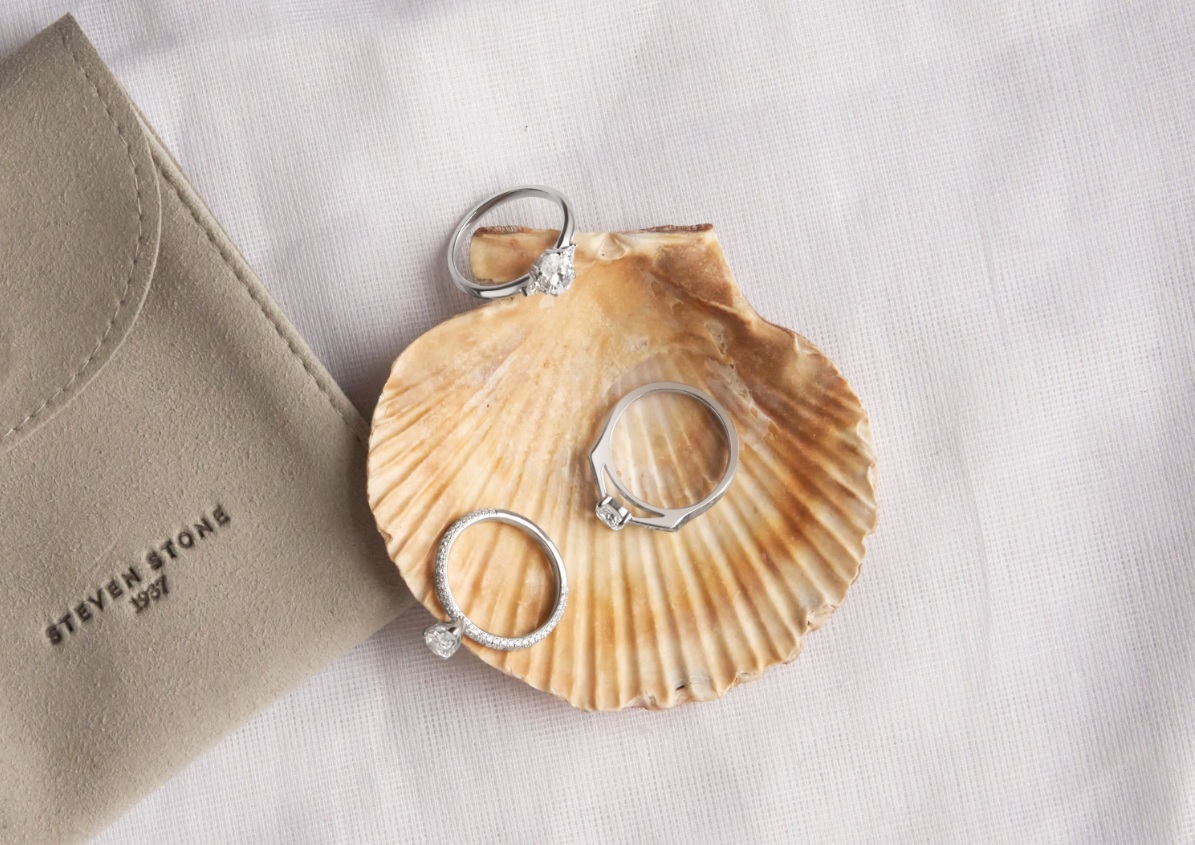 If you're looking for an engagement ring or wedding ring and would like to browse for inspiration, take a look at our ready to wear collection or chat to one of our team for bespoke creations. Why not take a look at our full jewellery collection?
READ MORE: How to find your partner's ring size
READ MORE: What's the difference between white gold and platinum?
READ MORE: Ultimate Guide to Cleaning your Jewellery
READ MORE: Lab-Grown vs Natural
---
Follow us on our socials
Pop over to our social platforms to keep up to date with Steven Stone's latest jewellery content and news.