The latest Suicide Squad movie release is dominating our screens right now, not to mention there have been over 145,000 Google searches for Joker and Harley Quinn costumes around the world this year.
With fans around the world in awe of the tragic comic book couple, jewellery experts at Steven Stone have whipped up some hauntingly beautiful wedding rings for couples who are captivated by Harley Quinn and the Joker's tale.
The Harley Quinn ruby and sapphire ring
The Harley Quinn wedding ring is set on a pave band packed with an array of rubies, diamonds, and sapphires. For those who are yet to propose to their puddin', we've also created a wedfit engagement ring which features a stunning round 1ct diamond.
For an extra special surprise, underneath the rings, we've added some incredible fine detail around the band. You'll see there's alternating rubies diamonds, and sapphires set with beds, surrounded by milligram.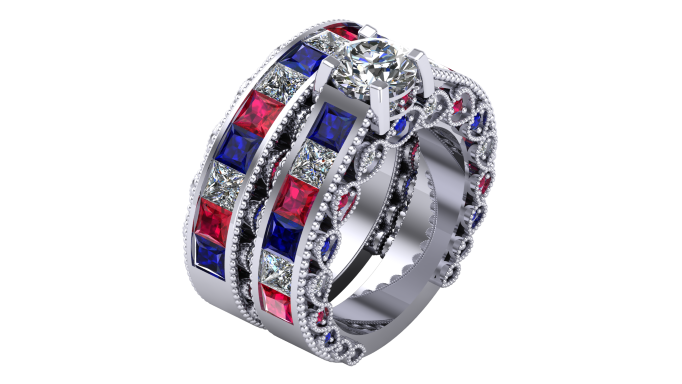 Purchased together, the rings are priced at £13,500, while the engagement ring is £10,000 and the wedding ring is £3,500 when bought separately.
The Joker amethyst and garnet tsavorite ring
For DC lovers who prefer the Joker over Batman, this incredible wedding ring is fit for a comic book villain on their wedding day.
In the same style as our Harley Quinn ring, it features alternating amethyst and garnet tsavorite, this wedding band perfectly represents the colours worn by the Joker. It can be set in either white gold, yellow gold, or platinum.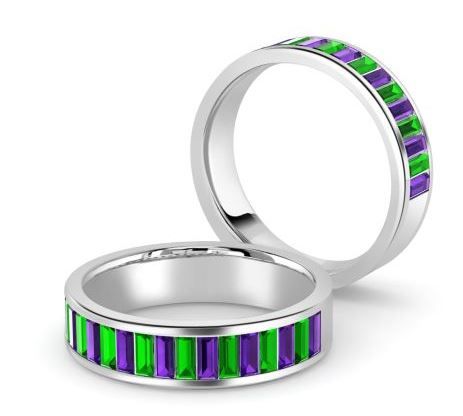 Prices start from £3,500.
All our rings are hand crafted by our in-house team in the UK, which makes each piece truly unique.
We create bespoke jewellery for customers all around the world, so if you're interested in finding out more about our designs, or you want to create your own fantasy love story with our Harley Quinn and Joker set, please get in touch with us here.