An engagement ring is an important purchase, but it doesn't have to break the bank. With mortgages to pay, hiking energy bills, and the cost of everyday life adding up, not everybody has thousands of pounds to spend on a huge diamond ring.
However, if you think you can only afford a £1 engagement ring from Poundland, think again, as our experts have revealed some clever ways you can cut the cost of your ring, while still keeping all that sparkle.
Our leading jewellery expert, Maxwell Stone, reveals how you could save up to £10,000 on an engagement ring.
1. Save thousands by choosing a lab-grown stone
In the last 12 months, lab-grown diamonds have made up 70% of our engagement ring sales – and it's easy to see why. By choosing a lab-grown stone you can save thousands of pounds, and the best part? Nobody will know the difference.
"Lab-grown stones and natural diamonds are indistinguishable to the naked eye. The only difference between the two is that natural diamonds are sourced from below the earth's surface, whereas lab-grown gems are created in a laboratory. Creating a lab-grown diamond is not only more ethical, but it's also less intensive than the diamond mining process.

From a production perspective, it costs a lot less to grow a diamond in a lab than it does to mine a diamond from the earth. This means the savings are passed along to shoppers. To put it into perspective, you can purchase a lab created diamond that's 30% larger than a natural diamond for the same price, or even less."
Here's an example. A 1ct natural diamond, F colour, VVS1 clarity, and Excellent cut has an estimated value of around £9,500. However, a lab-grown stone with the same properties will cost around £1,800 – saving you a staggering £7,700.
If you're still not convinced, after surveying 1,000 couples from our customer database, 65% of them said they would consider choosing a lab-grown diamond for their engagement and wedding jewellery.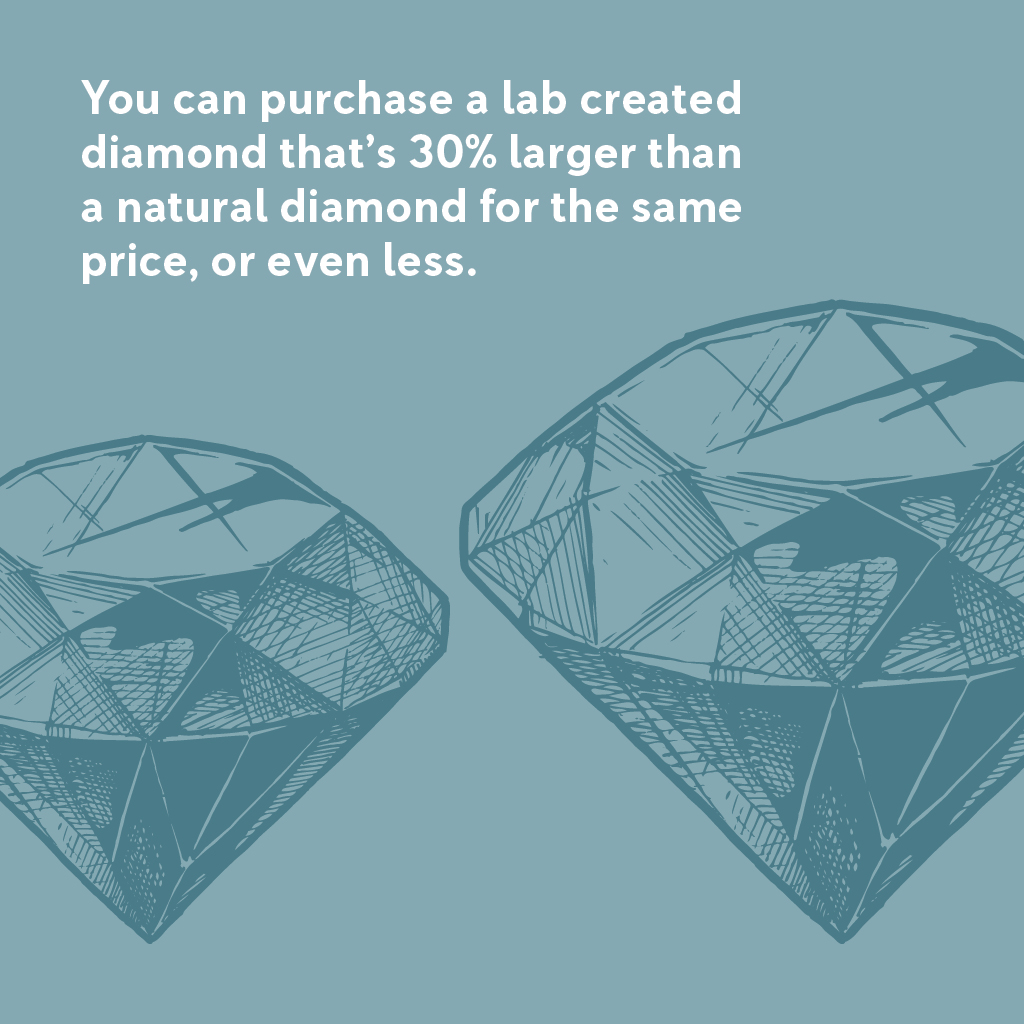 Read more: How to shop for an ethical engagement ring
2. Remodel old stones
In a world where sustainability is vital, reworking an old piece of jewellery to create an engagement ring, is not only ethical, it also adds an added sentiment to the piece. Perhaps you have your grandmother's engagement ring that's a little worn, but has beautiful stones in need of a little TLC, or maybe you have a beautiful pair of diamond earrings you barely wear and want to put the stones to good use.
Whatever the case, upcycling jewellery is becoming increasingly popular and can save you a lot of money.
"We've upcycled a countless number of diamonds over the years, and re-designed old pieces into fresh, modern rings, with a vintage twist. It's becoming an increasingly popular trend as not only does it save a lot of money, it also makes an engagement ring have added meaning, which is priceless.

"If you're worried a diamond or gemstone is too worn to be repaired, usually that isn't the case. Ultrasonic machines are very powerful and can give the oldest stones a new lease of life. You can also save a fortune by reworking an old diamond or gemstone, as you'll only need to pay for the redesign, not a brand new stone."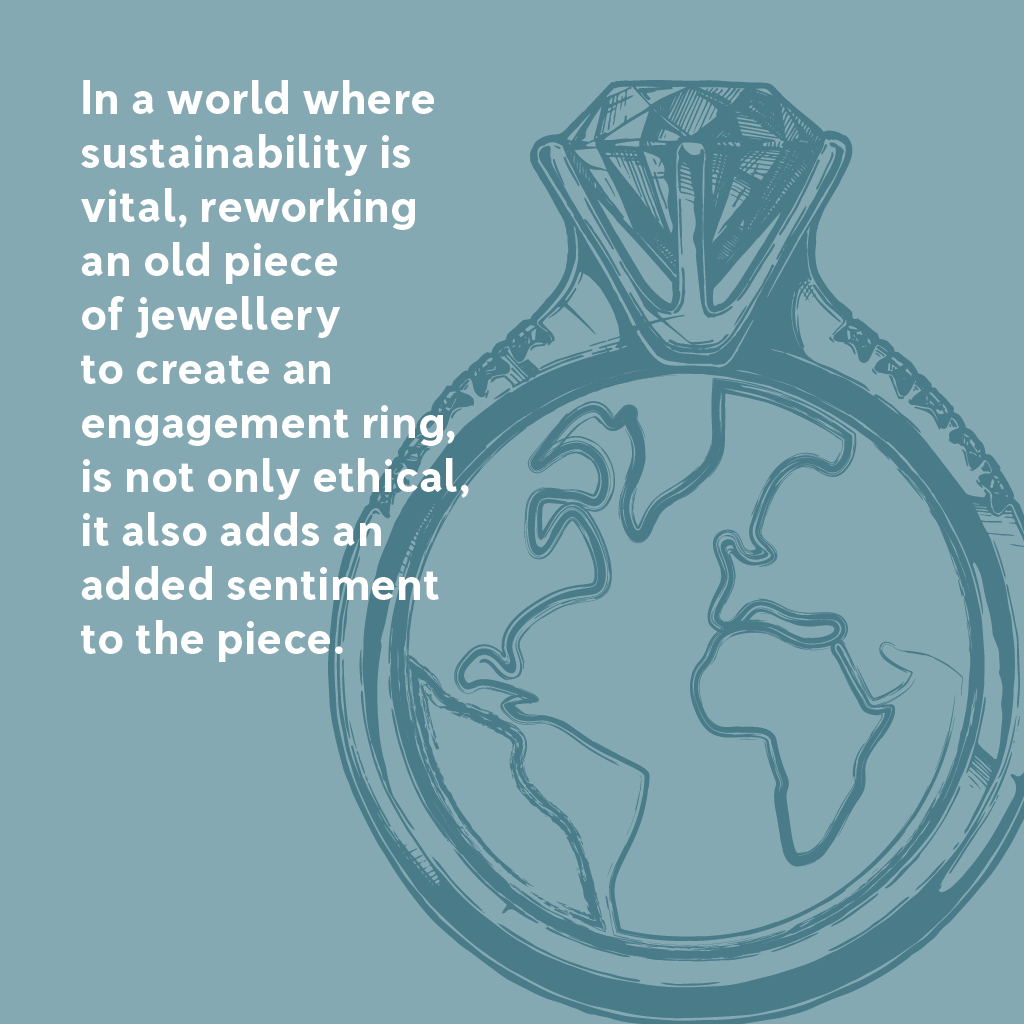 Read more: Remodelling your engagement ring is easier than you think
3. Consider using yellow gold
Typically yellow gold is slightly cheaper than white gold or platinum, and is perfect for rings which have a vintage element or feature gemstones such as sapphires or emeralds. Platinum is the most expensive metal to choose for an engagement ring, however as it's stronger than white gold, it does require less maintenance over the years.
If you're really trying to cut costs, you could also choose a lower carat of metal. Typically, engagement rings are made with 18ct white gold, yellow gold, or platinum but that's not to say you can't ask for a 9ct carat, which will take a few hundred pounds off your total cost.
"Another clever way to save money is to switch up the metal you choose for your engagement ring. Yellow gold is bang on trend right now, so nobody would ever need to know you're trying to be cost efficient – instead it's more likely to be seen as a style statement. Kate Middleton's engagement ring is set on a yellow gold band, which looks incredible with her Ceylon sapphire stone. Yellow gold really makes coloured gemstones pop,, and it compliments three-stone vintage designs, like Meghan Markle's, which is also made with yellow gold, perfectly."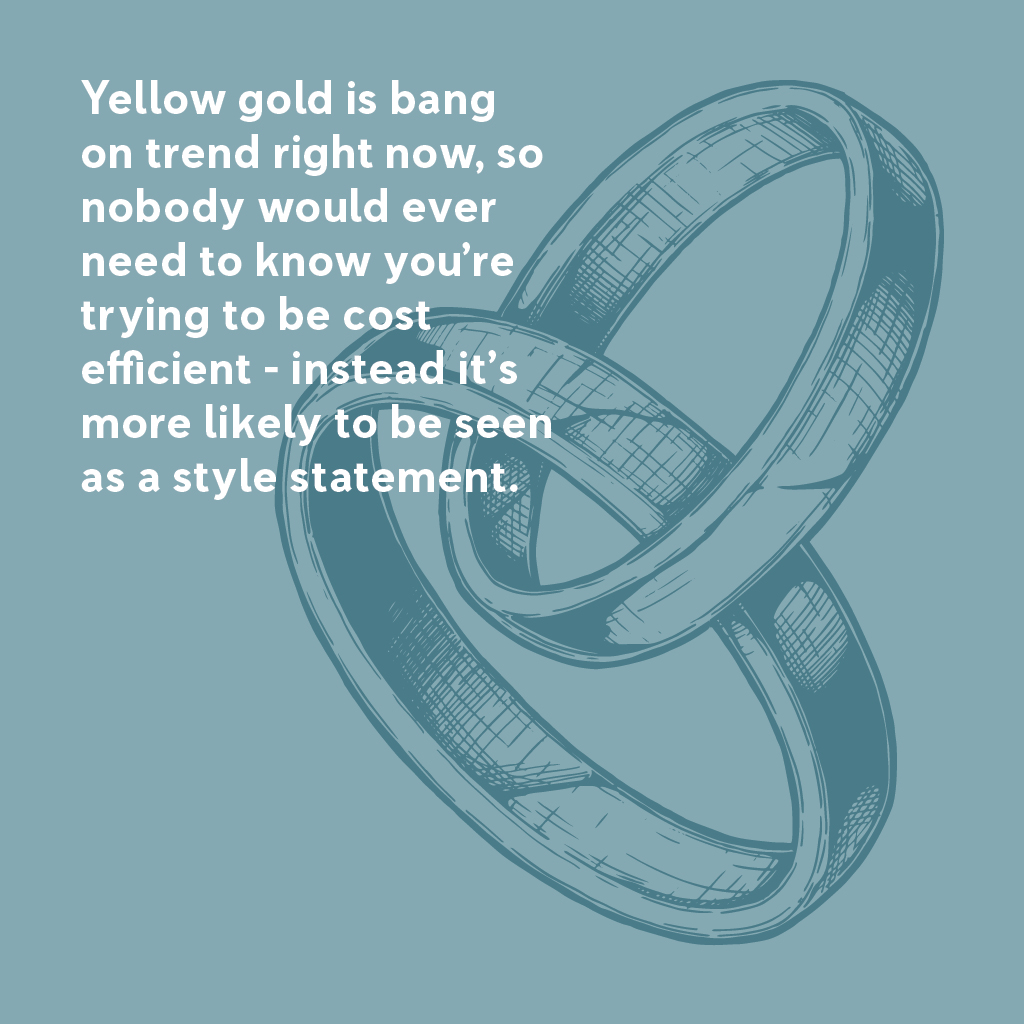 4. Choose a diamond with less carats – and nobody will know
In the UK, the average diamond size for an engagement ring is 1ct, however, what many people don't know is that if you're clever, you can choose a stone with less carats that has the same physical appearance as a 1ct diamond.
Not all 1ct diamonds appear the same size – as the entire diamond is not visible from the top down. The percentage of hidden carat weight, or "depth percentage", determines the surface area of your diamond that is visible when set, and there are strict parameters for a well-cut stone. For example, a well-made round brilliant 1ct cut diamond should measure between 6.4mm to 6.5mm in width.

If you would like to purchase a 1ct diamond but don't have enough budget, we always recommend choosing a well-made 0.90ct round diamond which measures 6.25mm in width – the same physical size as an average 1ct diamond. This could be up to £500 cheaper, and nobody would ever know.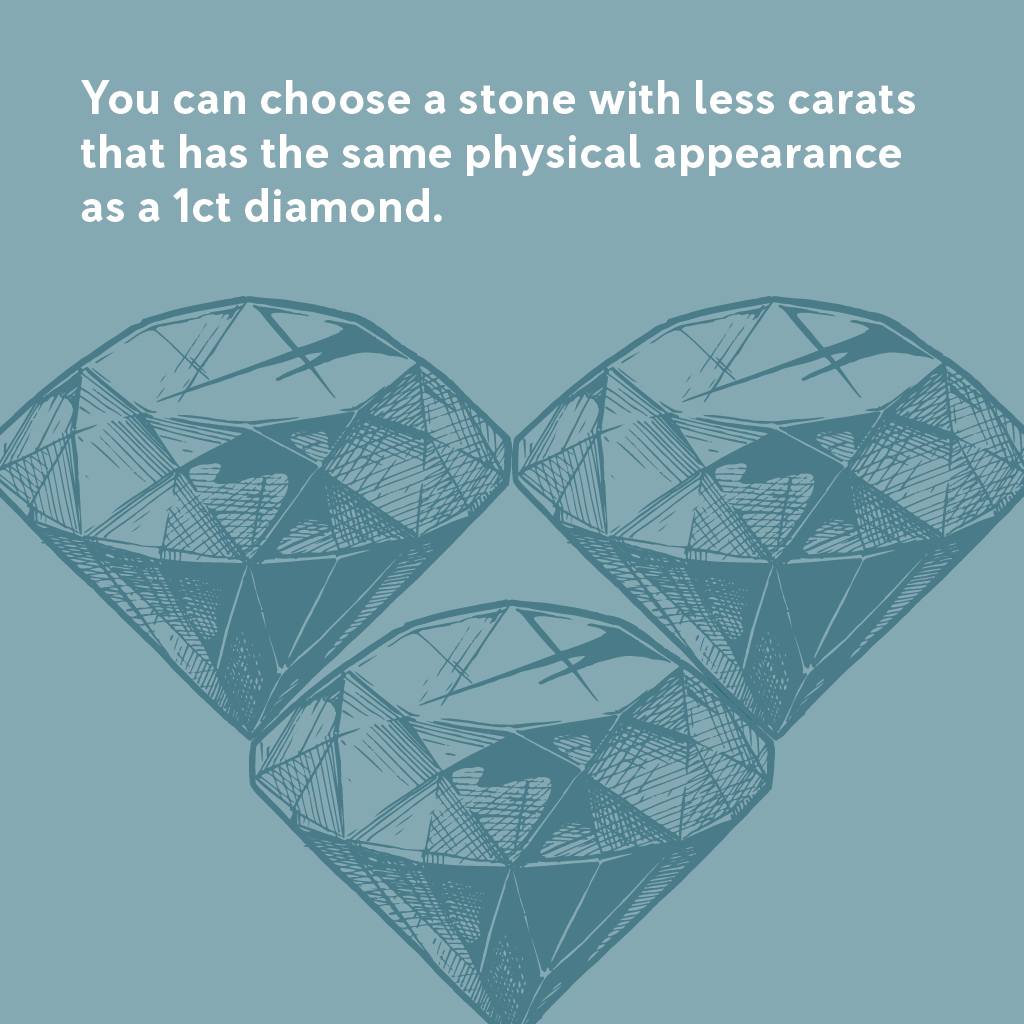 5. Ditch the diamonds altogether
Diamonds aren't the only option for your engagement ring, so don't be fooled into thinking you must have one, as there are tons of other options that sparkle just as bright.
Moissanite is a really great alternative – not to mention it's beautiful. The moissanite crystal is the second-hardest gemstone on the planet after diamonds. The man who discovered the stone was Henri Moissan. At first glance, everyone assumed it was a regular diamond, however under further examination, it was unveiled as a brand new gemstone.
Most moissanite stones are synthetic as natural moissanite is very rare and it's unlikely to find a natural stone that is large enough to be used in jewellery.
"Moissanite has good scratch resistance and durability is very high, and most importantly, the cost is ten times less than a natural diamond. Interestingly moissanite is becoming very popular with millenial couples, who are looking for sparkle without splurging. In the last three months Google search data shows a staggering 83% increase in searches for the term 'moissanite ring' which suggests this stone is definitely one to watch in 2022."
Other gemstones such as opals, citrine, and garnets can make great alternatives. These are all popular birthstones, too, giving an added touch of love if you or your partner are born in the correlating months.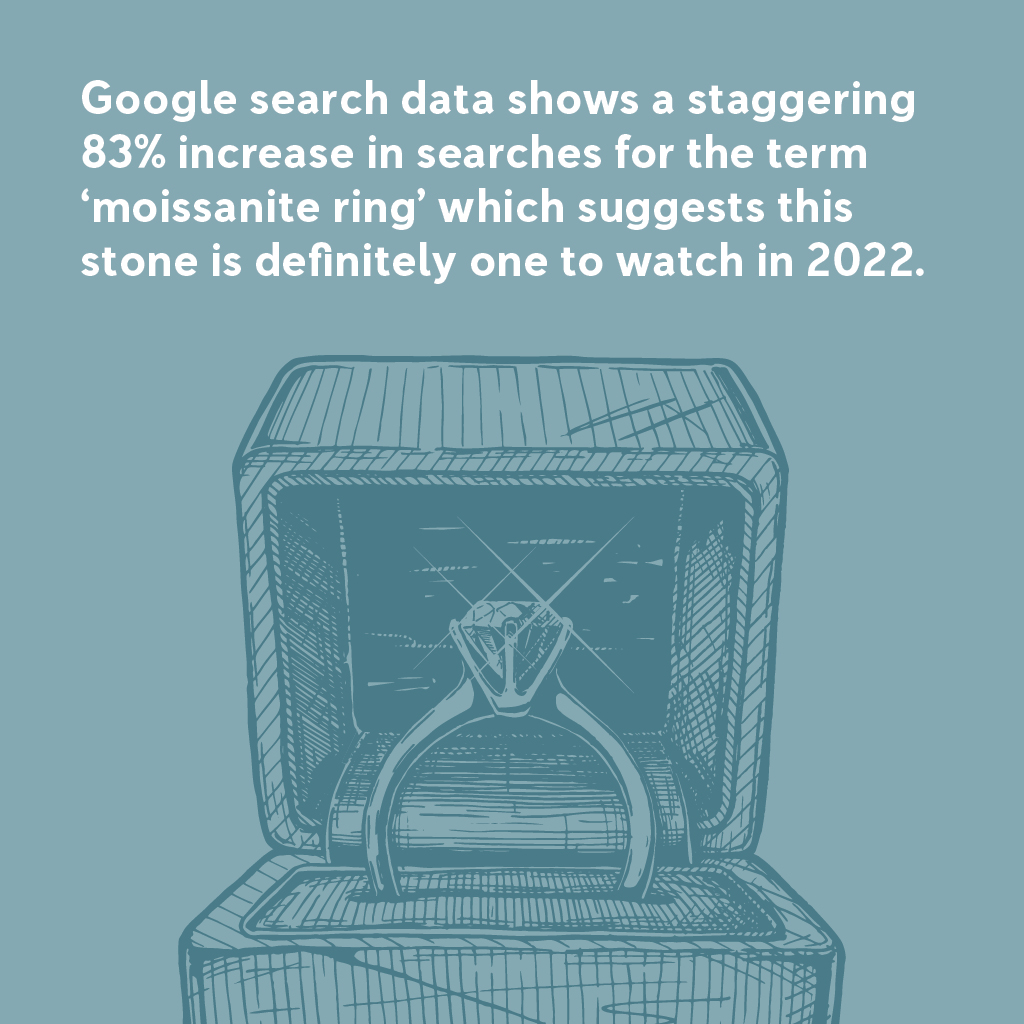 Read more: The ultimate guide to birthstone jewellery
If you're looking for an engagement ring and would like to browse for inspiration, take a look at our ready to wear collection or chat to one of our team for bespoke creations.
We also offer diamond earrings, eternity rings, and wedding rings for women and men.