Considered to be one of the most beautiful jewels in the world, blue diamonds have been a symbol of status and luxury for centuries.
Blue diamonds are rarer and carry a higher price tag than all other fancy coloured diamonds, with the exception of red diamonds. Thus, they're highly sought after by collectors, enthusiasts, jewellers and investors from all over the world.
Diamond experts at Steven Stone have put together a guide about blue diamonds, which includes how they get their colour and everything you need to know about the world's most expensive blue diamond.
Where does a blue diamond get its colour from?
Blue diamonds are real, natural diamonds that are found below the earth's surface. They're not treated or enhanced to get their colour, it's due to the presence of boron in the diamond's carbon structure.
Due to their mesmerising colour, blue diamonds are often confused with blue sapphires, which are the popular and well known colour of sapphire. Sapphires are a member of the corundum family.
What's the most expensive blue diamond?
The world's most expensive blue diamond is called the 'Oppenheimer Blue', and set a world auction record in 2016 when it sold for more than $57.5 million at Christie's Geneva Magnificent Jewels sale.
At 14.62 carats, the Oppenheimer Blue is the largest Fancy Vivid Blue diamond ever to appear at auction and at the Four Seasons Hotel des Bergues in Geneva, it set a new world record for any jewel when it sold for CHF 56,837,000 – equivalent to around $58 million.
According to Rahul Kadakia, Christie's International Head of Jewellery, bidding took well over 20 minutes, starting with multiple bidders, and then settling down to two collectors who were bidding competitively in varying increments to get to the final world record price.
The diamond was named in honour of its previous owner, Sir Philip Oppenheimer – a racehorse owner whose family controlled the De Beers Group – and was the latest in a long line of distinguished blue diamonds to have appeared at Christie's. They include a blue-diamond ring owned by Marie-Antoinette in 1983, The Tereshchenko Diamond in 1984, the Begum Blue in 1995, and the Wittelsbach Diamond in 2008.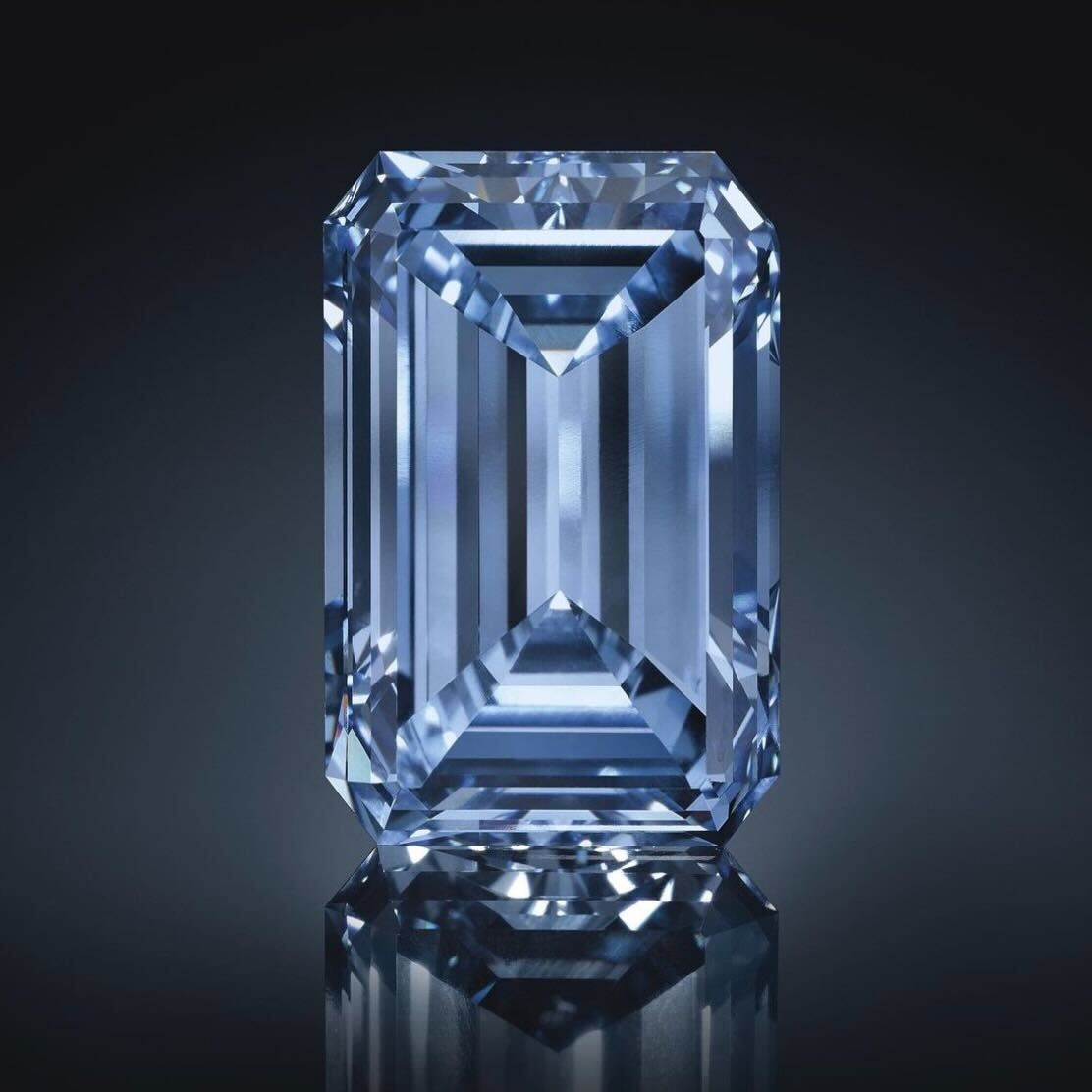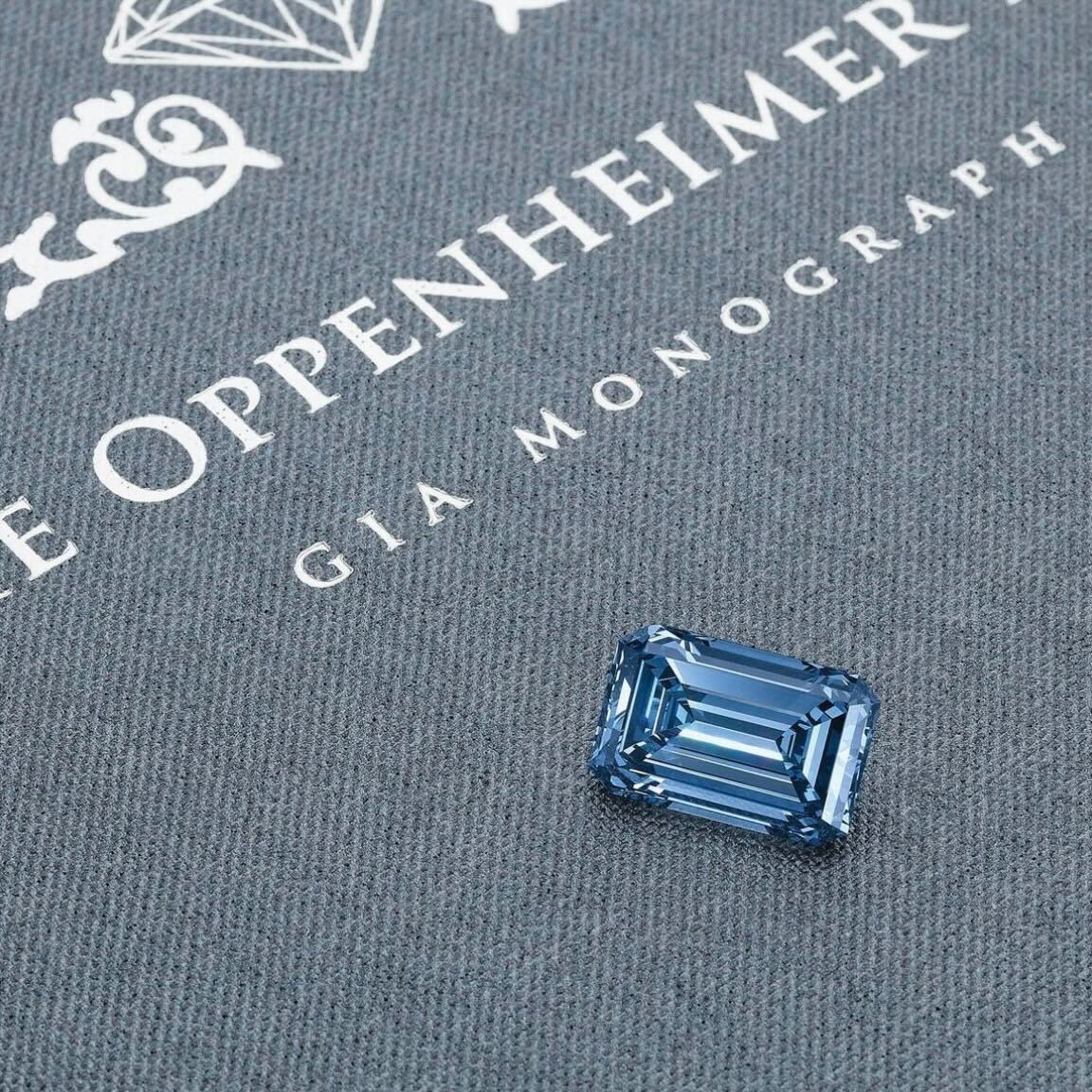 Christie's reported that Sir Philip developed his eye for extraordinary gems after leaving school, sorting and valuing rough diamonds into sales parcels at De Beers – first in London, and then in the cutting centre of Antwerp.
After distinguished military service in the Second World War, he took took over the De Beers sales cartel in London and set up his own racing stable at Newmarket to own and breed thoroughbreds. He is remembered today as an architect of stability in the international diamond industry and for his incomparable collection of diamonds, led by the magnificent Oppenheimer Blue.
At the sale in Geneva, it's reported that the room was filled with more than 300 clients, with watchers cheering each bid that the stone received.
Other Famous Blue Diamonds
The Blue Heart Diamond: The Blue Heart Diamond dates back to 1909 when it was originally cut by French jeweller Atanik Eknayan of Paris from a 100.5 carat rough blue diamond. The jeweller cut the diamond into a 30.62 heart-shaped brilliant cut diamond. The diamond was set in a pendant and originally purchased by French jeweller Pierre Cartier in 191, then acquired by Van Cleef & Arpels in 1953 and in 1999 he diamond was purchased by Harry Winston.
The Wittelsbach-Graff" Blue Diamond: The Wittelsbach-Graff" Blue Diamond is a fancy deep blue diamond weighing 31.06 carats with internally flawless clarity. The diamond was purchased in 2008 for £16.4 million by Laurence Graff. Graff announced in 2010 he had the diamond cut to remove all flaws making it 4 carats lighter – some have said that the diamond is now unrecognizable. The diamond originates from Indian mines in 1664.
If you're looking for a diamond of your own, why not take a look at our stunning selection of engagement rings, wedding rings, and fine jewellery. We have showrooms in Manchester, Cheshire and London.
---
Follow us on our socials
Pop over to our social platforms to keep up to date with Steven Stone's latest jewellery content and news.