Choosing an engagement ring is difficult, there's no doubt about it. With so many styles and sparkling stones available, many couples spend months sourcing the perfect piece of jewellery.
And while selecting a stone may come easy to some, picking a setting that compliments is can be tricky. From platinum and white gold to yellow and rose gold, the metal is one of the most eye-catching parts of an engagement ring, which could dramatically affect its overall appearance
To help you along the way, our jewellery experts at Steven Stone have taken to Instagram to reveal what's being snapped the most around the world.
Using hashtag data, we analysed which type of metal and stones have the highest number of posts when it comes to engagement rings.
1. Rose gold engagement rings
28,772 hashtags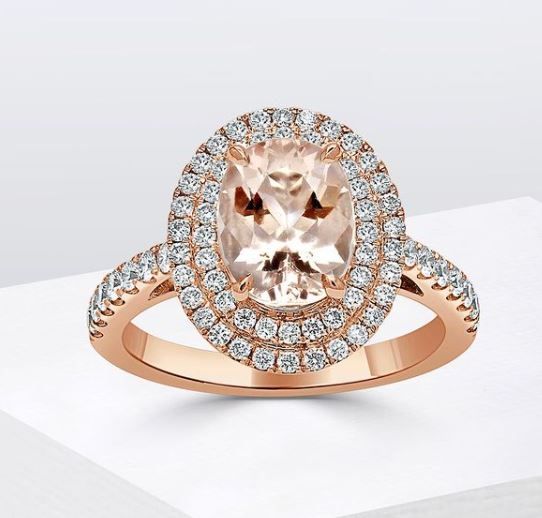 Whilst it may come as a surprise, rose gold engagement rings are the most popular overall, with a whopping 29,772 hashtags on Instagram, suggesting they are officially the biggest trend for brides to be.
Engagement ring specialist Max Stone said: "While white and yellow gold are the most traditional choice for engagement ring settings, we are definitely seeing more couples looking for something a little different. Millennial's are keen to step away from traditional styles and choose a ring that represents their personal style."
"Rose gold is beautifully complimented by morganite, which again, is another stone that's growing in popularity."
Celebrities with rose gold engagement rings: Lauren Conrad, Blake Lively, Maria Sharapova, Leighton Meester
2. Yellow gold engagement rings
12,463 hashtags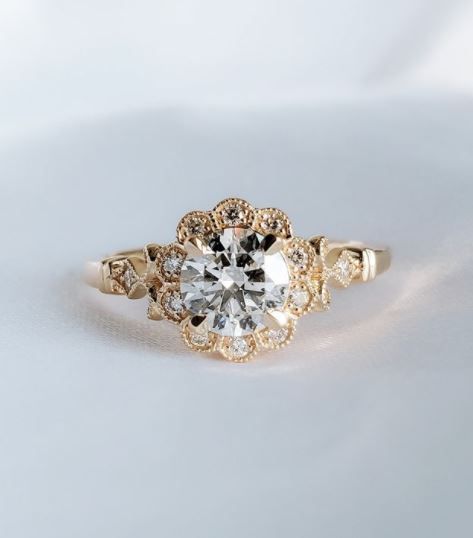 Yellow gold is famed for being the most traditional precious metal options for engagement rings. Yellow gold rings appeal to those who desire its rich appearance and strength, whilst retaining a sense of tradition. Whilst they've seen a slight decline in the past 30 years, as vintage styles have surged in popularity, yellow gold is now the second most popular choice.
"Princess Diana had a yellow gold engagement ring, which now belongs to Kate Middleton who is known as a global style icon. Not only did this increase the demand for vintage engagement rings, it also increased the demand for yellow gold rings. Like Diana's ring, precious stones such as sapphires looking stunning on a yellow gold band, along with rubies and emeralds." Max said.
Celebrities with yellow gold engagement rings: Lilly Collins, Tallulah Willis, Meghan Markle, Hillary Swank, Kate Middleton
3. White gold engagement rings
6,448 hashtags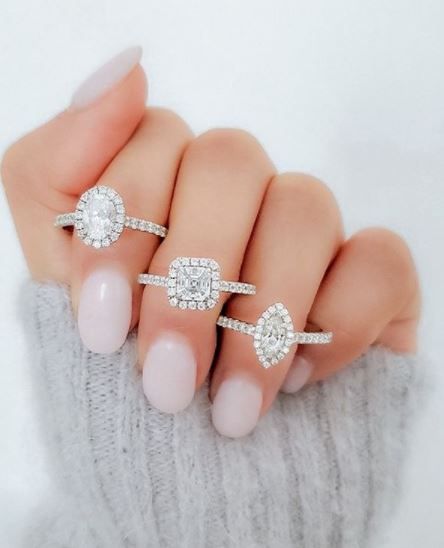 White gold is another classic choice for an engagement ring as it compliments a diamond and is versatile if you want your ring to match your other day to day jewellery.
While many couples are often torn between white gold and platinum, which look identical to the naked eye, white gold is by far the most popular of the two, thanks to it's lower price point.
Max said: "While platinum may be slighter more expensive, that doesn't necessarily mean it's the right choice for you. Although platinum is stronger than white gold it's also a softer mental, meaning it's more vulnerable to scratches. Many people like this vintage style look, however, so it's really down to personal preference."
Celebrities with white gold engagement rings: Serena Williams, Sophie Turner, Beyonce, Victoria Beckham
4. Platinum engagement rings
5,770 hashtags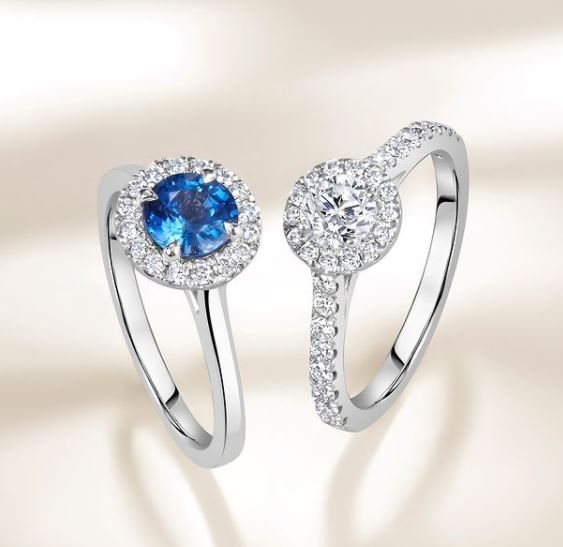 Although many people assume platinum is the most luxurious choice for an engagement ring, it proves to be the least popular overall, with 5,770 hashtags on Instagram.
Platinum is very similar to white gold, however the main difference comes from the colour of their natural properties. Before being modified, platinum has a natural white hue, while gold is a little more yellow. To successfully craft a white gold ring, you need to combine gold, alloys and a rhodium plating, which makes it appear white.
Platinum is also the perfect choice if you have a nickel allergy, which is present in white gold. A nickel allergy can irritate the skin and create a rash around your ring finger, where the metal sits.
Celebrities with platinum engagement rings: Mariah Carey, Natalie Portman, Lady Gaga, Kate Hudson
The most instagrammed gemstones for engagement rings
Alongside the type of metal used to create your dream engagement ring, our experts also analysed the most popular gemstones that create some serious sparkle.
Are diamonds still a girl's best friend? Or is there are new stone about to steal the show?
Take a look below to find out…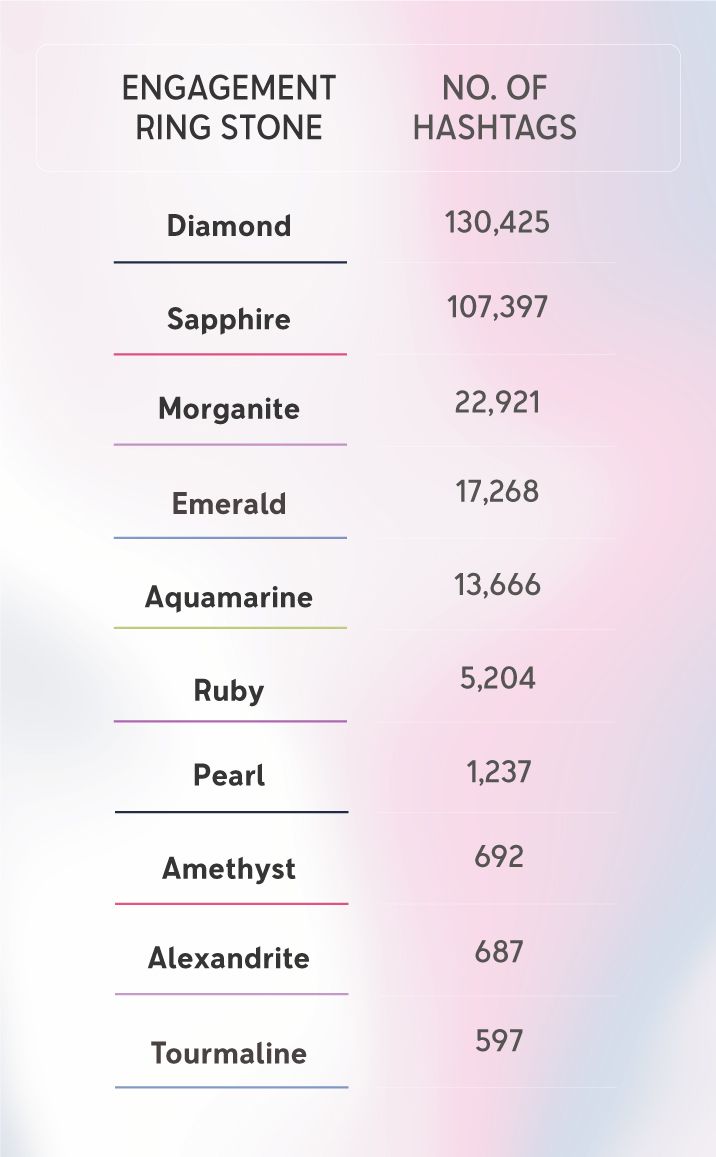 With over 130,000 Instagram users using the hashtag #diamondengagementring, our data shows this timeless stone is still the most popular choice for that special piece of jewellery.
Interestingly, sapphire's are the second most popular gemstone, which again could be thanks to the popularity of the stunning Ceylon sapphire engagement ring showcased by Kate Middleton.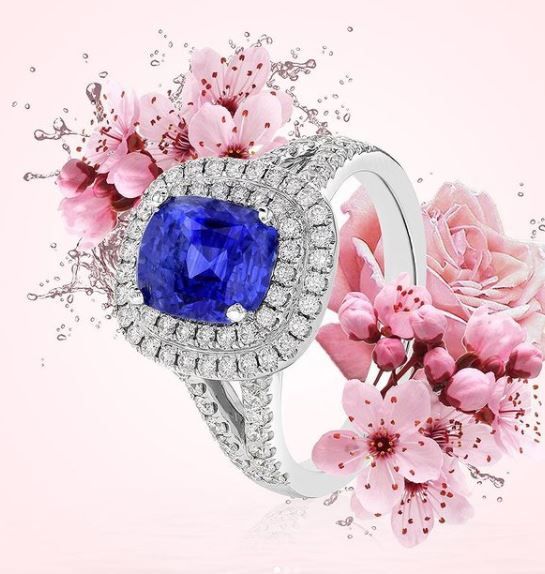 Morganite is the third most popular gemstone, which makes sense considering it's the perfect partner for rose gold which as we've seen is the most popular choice of metal by a long shot. Morganite radiates in beautiful pink tones and is used to create the most spectacular engagement rings, pendants and earrings. It belongs to the colourful group of beryls, which includes emeralds and aquamarines.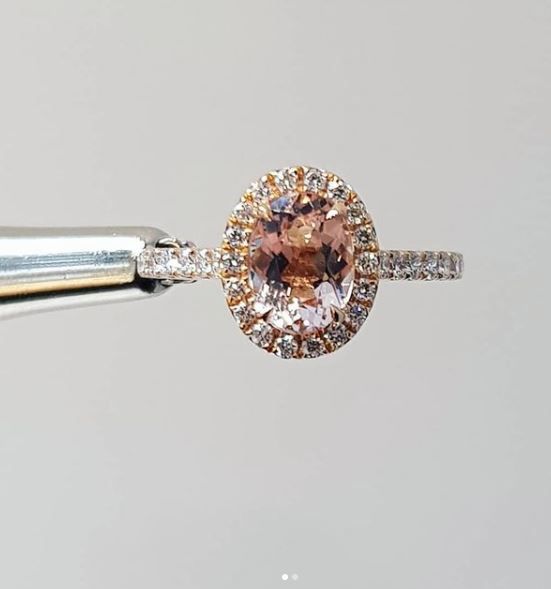 Morganite has nearly as much sparkle as a diamond, at a much more affordable price. Lily Collins, who debuted her engagement ring to the world in September 2020, opted for morganite centre stone, while Blake Lively and Jennifer Lopez have pink diamond rings, which are often replicated using morganite stones.
Emeralds are next on the list with 17,268 hashtags. Throughout history the emerald was often considered a sacred stone. It was thought the stone had healing powers and would bring good luck to those who wore it. Egyptian Queen Cleopatra, was most famously known for her love of emeralds.
In today's world, emeralds are still loved by famous faces. From Victoria Beckham who owns an incredible engagement ring worth £3.8M according to our experts.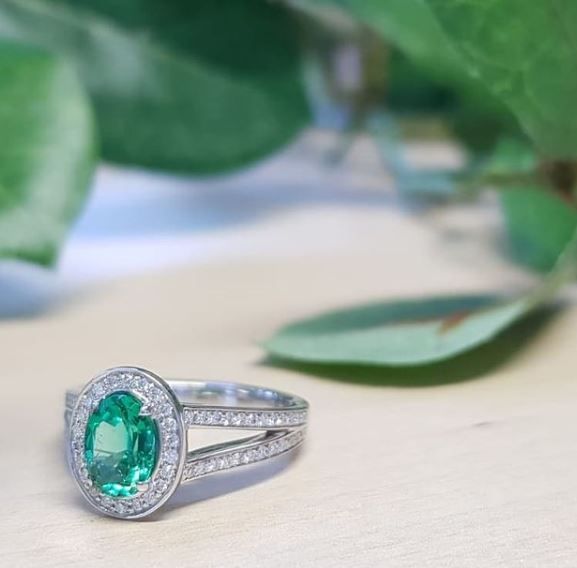 Max Stone said: "When choosing an emerald cut, it can often be more expensive as inclusions are more visible, and you need to choose a higher clarity stone. However, this isn't a problem for the Beckham's as her emerald stone is of the highest quality, worth around £3,800,000."
Aquamarines are another popular choice right now, which could be down to the rise in birthstone engagement rings which are a huge trend for 2021.
They radiate an extraordinarily range of blue, from pale to deep ocean blue and are desired by women all over the world who love the fine shades, gently complementing most skin tones and eye colours.
The Aquamarine's light blue symbolizes feelings of sympathy, trust, and friendship. It is also the birthstone of those born in March.
Jessica Biel was given a 6 carat diamond and aquamarine engagement ring in 2011 by Justin Timberlake, which we estimate to be worth around £150,000.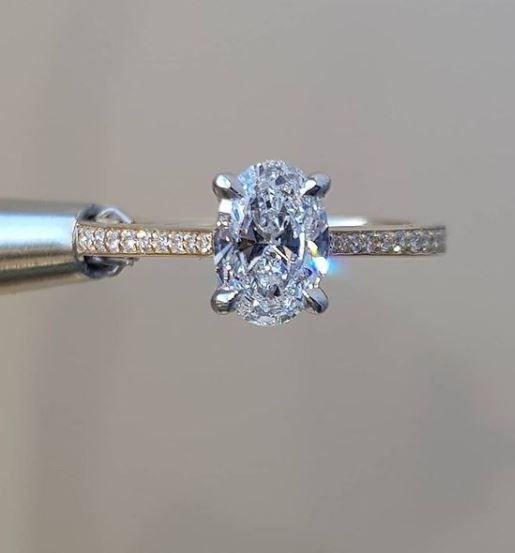 Further down the list, rubies, pearls and other birthstones also make the top 10, however do not receive as much Instagram attention as those mentioned above.
If you're looking for an engagement ring and need some help choosing the perfect stone, take a look at our education guide to gemstones.